I'm having a few friends over for dinner on Saturday night and I'm finding it hard to edit myself when planning the menu. And may I add I'm only doing the main course, the ladies are bringing dessert.
I definitely want to make a beef fillet because I want to make the reduction a la Katlego, blueberry balsamic reduction that is Amathing! So there is no question that fillet is on the menu!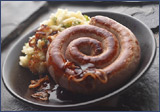 Now one of my guests doesn't eat legumes, so I'll throw in some crushed potatoes. Then finally none of my meals are complete without a green vegetable and it's likely to be steamed broccoli with a light garlic infused olive oil coating.
So now the question is will they go together, more to the point will the fillet and blueberry reduction go with the lentils? Unless I get a mountain of protest before then I shall let you know after dinner.
I do believe that if I have a common thread to tie them together it could work, I'm thinking a herb. Rosemary perhaps